Hey guys.  My name is Carla and I'm a student here at Rutgers double majoring in Psychology and Human Resource Management.  I'm writing this blog because I don't know about you, or if this is even normal or relatable at all, but I have the hardest time ever committing to the simplest things.  Tell myself I'll go to the gym every day?  After 2 days I break that promise.  Tell myself I'll stop eating bagels every morning?  Hahahaha.  Yeah right.  I could go on and on about things I promise myself I'll do and then break a day or two in.  So this blog's purpose is to challenge myself and my inability to commit.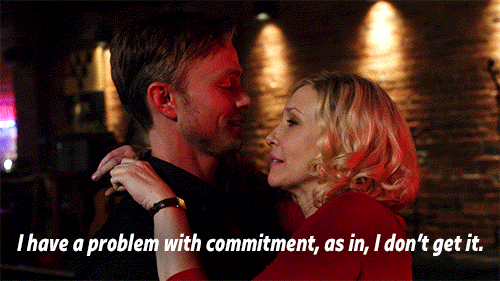 In the beginning of each week I will decide on what my commitment will be for the week, and at the end of each week I'll give you guys updates on how long it lasts and how painful it is for me to keep up with it.  Hopefully though, I'll stick to my word no matter how difficult it is, and be able to prove that I can, in fact, commit.  I want this blog to encourage other people that feel they may also have "commitment issues", that if I can commit, they can too.  If I have one talent, it's to make fun of myself and the fact that I can't keep seemingly easy promises to myself, and I've always believed that if you can't make light of your flaws that you will go utterly insane instead.  I'm determined to start keeping these promises for my own benefit, but also for your entertainment, because Lord knows its going to be a shit show.
Even trying to commit to a topic for this blog was like pulling teeth.  After so many ideas ran in and out of my head, and so many opinions and suggestions were given to my desperate self from friends, I realized, what would be better than a blog about how hard it is for me to commit to a single damn thing.  I'm excited to test my limits and really push myself to keep going with things that I normally would say "F this" and quit the minute things got tough.  Some weeks will be easier than others I'm sure, and it'll be a learning experience for me to see how determined and motivated I stay for each specific challenge I give myself.  Wish me luck, I'm going to need it.  If you have any suggestions on things that I should try to commit to, don't be afraid to reach out!